"Uncle From Another World" Anime Coming To Netflix On July.
On Thursday, the official Twitter account of the anime "Uncle From Another World" released the anime's 1st PV and mentioned that the series will begin airing on Netflix from July 2022.
Other than publicly announcing the anime's release on their official website and Twitter handle, it was also announced in the online Netflix event. The Netflix event began on 7th June and will continue till 11th June in Japan.
Story of the manga is simple:
The story mostly revolves around Takafumi and his uncle who went to coma seventeen years ago after being hit by a truck, but one day he suddenly woke up from sleeping state.

Now, his uncle have returned with various magical abilities and claims to have been transported to an isekai world.…Thus, begins the days of Takafumi educating and updating his uncle with the latest happenings all around the world and the Uncle slowly revealing everything that happened to him in that unknown world!
The official website have also given us a sneak-peak of the staff and cast behind the series:
| | |
| --- | --- |
| Takehito Koyasu | Uncle |
| Jun Fukuyama | Takafumi |
| Mikako Komatsu | Fujimiya |
| Haruka Tomatsu | Elf |
| Aki Toyosaki | Alicia |
| Yuuki Aoi | Mabel |
Uncle From Another World Anime VA Cast
Other than Uncle and Takafumi all the characters above are on supporting role. The Elf is from the world where Uncle was transported to! We might know more about the other characters as we move closer to the release date!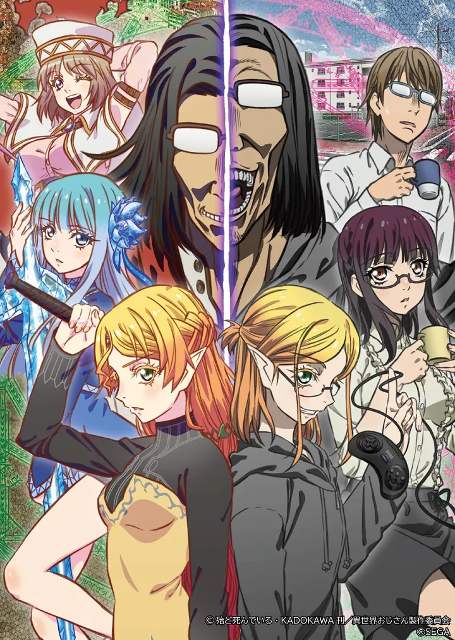 And here are all the Staff and the production company working hard behind the scene:
| | |
| --- | --- |
| Production Company (Studio) | AtelierPontdarc |
| Director | Shigeki Kawai |
| Screen Writing | Kenta Ihara |
| Music | Kenichiro Suehiro |
| Character Design/ Animation Director | Kazuhiro Ota |
Uncle From Another World Anime Staff
The official website of the anime has also unveiled the 1st PV and it looks hilarious! The trailer is close to 2 minutes and features Uncle and Takafumi and the various shocks Uncle faces after learning events that happened when under coma.
We also got to see the tsundere Elf, and hands-down she look cute!
Kadokawa released the 2nd PV on their YouTube channel. The 2nd trailer gives a better view of the characters and how funny the anime is going to be!
In conclusion, lately I haven't watched any good isekai anime, and I guess "Uncle from Another World" might break that streak…And these Slice-of-Life anime though don't have any important storyline, the are a great watch!
---
---
What do you think about this?
Do let me know!!