Studio Trigger's Cyberpunk: Edgerunners Release Date Confirmed As Netflix Unveils Trailer & More
On Wednesday, Netflix announced the release of anime Cyberpunk: Edgerunners on their Geeked Week livestream event. The have chosen September 2022 as the release month.
Fans and gamers who have played(or play) the infamous game Cyberpunk 2077 much already have a rough idea about the entire setting of the anime.
And the trailer and visual release has also confirmed the speculation!
Other than just announcing the release month, the livestream also mentioned the production company, and additional staff working on the project.
There are also some new Staff Members in addition to the ones mentioned few months ago…
| | |
| --- | --- |
| Production Company (Studio) | Studio Trigger |
| Executive Producer | Rafal Jaki, Dylan Thomas, Taiki Sakurai, Yoshiki Usa |
| Director | Hiroyuki Imaishi |
| Assistant Director | Hiroyuki Kaneko |
| Character Designer & Animation Director | Yoh Yoshinari |
| Script Writing | Masahiko Otsuka, Yoshiki Usa |
| Music Composer | Akira Yamaoka |
Cyberpunk: Edgerunners Staff Members
Netflix has also released a Visual Poster for the upcoming anime: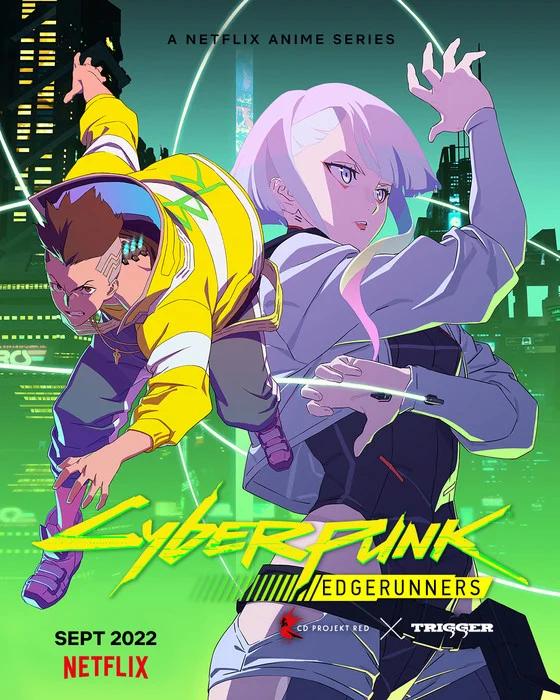 We also get to see the official teaser and an exclusive clip showing various characters of the anime! Trailer is too quick and mostly shows violence and action. I'm attaching the link below:
Fans are indeed excited after learning that Studio Trigger is animating all the episodes. And the fact that the anime has relation with the game Cyberpunk makes not only gamers excited, but also anime watchers, especially the ones who love mecha genre!
Below is an another video released by Netflix's YouTube channel, and it shows the Maelstrom Gang in action: Do check it… But please be aware that the anime is RAW, and might have some gore!
Netflix describes the anime:
"The series tells a standalone, 10-episode story about a street kid trying to survive in Night City — a technology and body modification-obsessed city of the future. Having everything to lose, he stays alive by becoming an edgerunner — a mercenary outlaw also known as a cyberpunk."