My Hero Academia Chapter 340 Spoilers, Raw Scans [UPDATED]
Holidays over, let's dive into My Hero Academia Chapter 340 Spoilers, Raw Scans..
Hatsume falling on Deku filled me with nostalgia. Recalling the early days of the series..
MHA is approaching its end and the REAL war is just beginning.
With this, let's look into MHA Chapter 340 Spoilers, Raws (if available).
MHA Chapter 340 Predictions
What Prediction can you make when there's a War brewing?
New Powers? Heroes dying? New Hero?
Hard to guess!
I still cannot believe Midnight's death, who know's what's going to happen this time?
Chapter 339 was mostly centered on Hatsume. I have rarely (probably never) seen her this calm.
Though she wasn't calm all along. She doesn't even know that there's an all-out war brewing outside!
Yet, she helps Deku and Iida with one of her "babies."
Mt. Lady and the students are getting ready for the War.
Mina is worried about Aoyama (all are).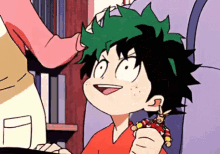 And look at Nejire? Doesn't she look more Hero-like with her short hair? Honestly I would always like to see a short-hair Nejire!
Hawks' and All Might are ready with a backup plan. I'm guessing it's Aoyama.
All Might is still one of the primary driving force behind the Heroes and of course Deku.
Rest assured, Hawks' must have a great plan.
Aoyama is full of shame and sacrificing himself to save his friends is the most obvious option I can think of.
Is it also possible that he has a hidden quirk? His present quirk is insanely destructive after all.
I guess who will fight whom is already set:
Endeavor ⮕ Dabi
Deku ⮕ Shigaraki/AFO
Students/Other Heroes ⮕ League of Villains/The Liberation Front
Correct me if I'm wrong somewhere? But, I won't be surprised if Endeavor ended up killing Dabi.
I'm just afraid about All Might. What if AFO injures or even kills him only to "awaken" Deku's hidden powers? I hope nothing like that happens!
Well, that's all for all the predictions.
Do you have any other interesting predictions?
I would LOVE to read in the comments!
Until Then!!
Chapter 340 Spoilers
MHA Chapter 340 Spoilers are here:
Chapter 340 Title: "The Story of How we became Heroes, Part 3."
Chapter begins with All Might and Hawks'.
After the Aoyama incident, they have reduced the number of people involved in formulating the plan as much as possible…
Ragdoll has been called in. But, the other Pussycats are not here.
She says that she will do her best to stop Search from being used for evil purposes.
All Might puts two pieces on blackboard. One representing AFO and the other Shigaraki.
He says the top priority is to separate them. Shigaraki is now stronger than AFO and until they are mentally connected the Heroes have no chance.
Pilot leader asks why AFO didn't go to fight Star too? To which All Might explains that AFO would also get affected by New Order.
He sets the condition for them to win. To put them at least 10 Kilometers away from each other.
Tsukauchi says that AFO will use his soldiers to avoid this from happening. Dabi will be a tough opponent.
The solution to this is Aoyama. Tsukauchi is skeptical, and he still doesn't believe Aoyama.
All Might on the other hand says that he believes Aoyama and also his teacher Aizawa.
The doctor declares that nothing is wrong with Aoyama's brainwaves, which also confirms that AFO dominated his family only by fear.
Aizawa asks Aoyama about the reason behind such fear? To which he says: besides AFO, he is scared to not shine like his friends.
The more they trust him, the more he doubts himself.
He is afraid that even if he holds their hand, he will, yet again, end-up following AFO's orders.
Aizawa understood that he has to forcibly remove this fear from Aoyama.
He says that whatever happens all these crimes won't be erased. It's also highly likely that he won't stay with his friends after the battle is over.
Aizawa then says: "You have to fight. That's the only thing you can do right now."
Aoyama gained some confidence after this conversation, but wonders how will a single criminal make any difference?
Aizawa says that in this path he is not alone, and that everyone will travel side by side.
Chapter ends with Shinso in his Hero Uniform hanging from a tree. His friends from regular course says that it's time and he agrees.
---
My Hero Academia is on a break (like most Shonen Jump manga).
And the latest chapter will return after the Holidays are over.
The good thing is that unlike official chapters, the spoilers and raw scans come out quite early.
Nice!
I will update this page when the spoilers are out.
Stay Tuned!!
Read One Piece