Is Blue Lock Manga Over? Is It A Good Read?
Is Blue Manga over? When will the manga end? Is it worth reading?
Yeah, I know you have a LOT of questions regarding the new and HOT manga. Hence, today I'll try to answer whether the manga is already close to its end?
Before we move one, here's what the manga is all about: Blue Lock is a sports(Football) manga focused on creating the very best and refined striker for the Japanese National Football Team. Japan's football team hasn't won any World Cup for decades and it's time to flip the coin!
With this, Let's GOOO…
HEAVY SPOILERS FROM MANGA!!
Is Blue Lock Manga A Good Read?
Blue Lock is hands-down one of the best sports manga at present. The series got most popularity when Attack on Titan creator Hajime Isayama recommended the series to his fans. On top of that the manga has also received many awards lately not only for its outstanding storyline, but also for art.
But, there are of course some pros and cons!
Pros
As I mentioned before, Blue Lock has some great storytelling for a sports manga. Some genres like comedy, thriller, sports makes it impossibly hard to continuously crank out interesting content. In fact the most dopamine-boost that we get from a sports manga is when the match is at its peak.
In Blue Lock's case the regular story is also pretty interesting! The mangaka has left us readers with a cliffhanger. Like for example, Bachira. The mangaka designed the chapters in such a way that Bachira became one of the most loved characters of the series. But, he never revealed his backstory!
We finally get to learn about his backstory in bits and pieces. And it's the same with most players. Be it Rin, Isagi, Chigiri, Barou…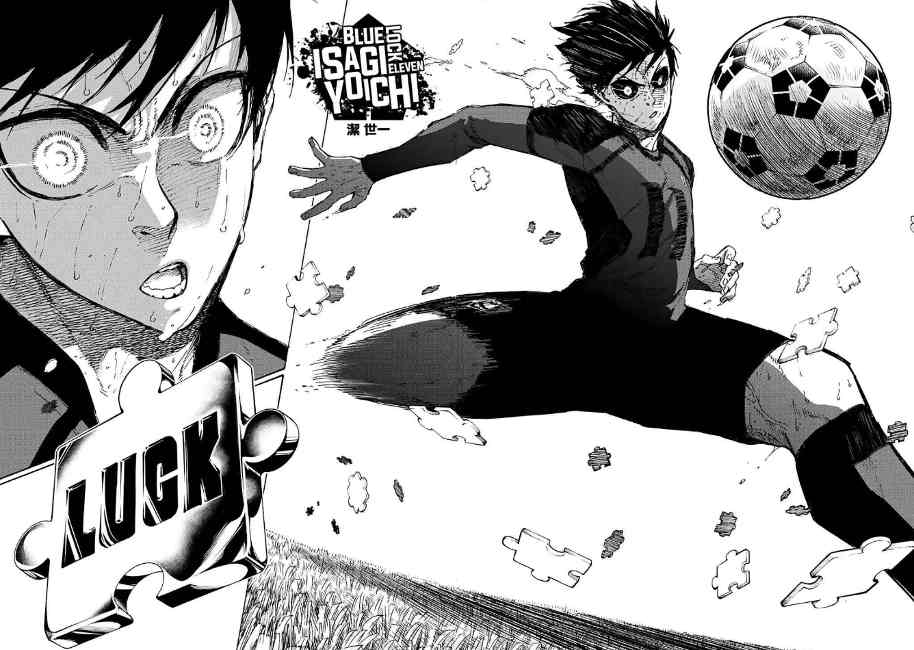 And of course how can I not mention the art style? If you have read/watched Attack on Titan, you know that Isayama is an expert when it comes to expressing emotion through eyes. And when I discovered the manga first the first time and read few chapters, I felt the art style(the eyes) were pretty similar.
And then I found out that Yusuke Nomura(Blue Lock illustrator) worked for Isayama as an assistant. So, you can say that the art style is inspired from Attack on Titan.
In short, Nomura's art literally talks. There are few chapters without any words, yet, you'll understand what's happening!
Cons
Repeated storyline! It's a curse for many manga, even for the big ones like Naruto, One Piece. Though everything about the manga is pretty damn fantastic, the story sometimes becomes too repetitive. Most of the match ending is same almost every time.
It's either Isagi leading the match to the end, or he loses and fails to do anything. And after losing he tries to mimic his opponent and learn his skills. He did this with Barou, Rin, Nagi. All these players were skillful enough to beat Isagi without breaking a sweat. And after losing he tried to mimic their training, etc…
I'm sure this happens in real life too, but at least not how it shows in the manga.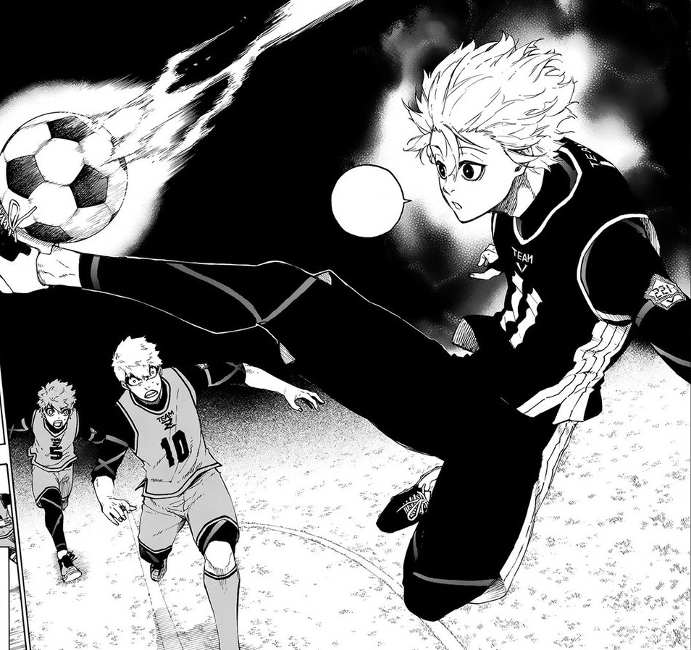 Underpowered protagonist. Unfortunately, we are seeing a Haikyuu!! here. Everyone except Isagi has some kind of "special technique." Bachira has dribble, Chigiri has speed, etc.
And during matches, sometimes it feels like the protagonist of the manga is nothing but a drag. It's frustrating to some point honestly! He cannot pass properly, he cannot snatch Bachira's dribble properly, he is nowhere in terms of skills like Nagi, and please let's not talk about Rin.
And suddenly, almost every time he gains so much strength that he is the man to score a goal in the end!
Maybe you like that aspect of Isagi, but my personal opinion is that he must have at least "character development."
---
---
Is The Manga Ending?
No, Blue Lock has not ended.
And it's also far from ending. I have a theory to support that the manga will not end with just a player "winning Blue Lock."
I think Ego Jinpachi (Blue Lock coach) has some shrewd plan. You obviously might know by now that Jinpachi is a master-manipulator. And since the Blue Lock players have little to no idea about the next his step. They play every match as if it is the last match of their life.
Here's the theory:
Rather than just choosing a striker for the National Japanese Football Team, Ego wants to create an entire football team of Blue Lock players.
And that team will go on to win world Cup for Japan… I can already see this happening. The mangaka has given very subtle hints. And the players who are shortlisted until now are pretty close to the total number of players required for a football team.
We have Nagi for skills, Bachira for dribble, Chigiri for speed and quick pass, Barou for insane tackle, Rin as an all-rounder, Isagi as a stirker, and the list goes on…
So, rest easy, the manga will continue and for few years. Some fans are saying that Blue Lock has the potential to become as successful as Haikyuu!!
Conclusion
To conclude, Blue Lock is obviously a good read and I can't wait for the anime. I hope the animation will be mouth-watering. Also the series is far from ending. My guess would be that it has reached only 20-30% of the story…
The anime will decide Blue Lock's fate. I hope the animation is as good as Jujutsu Kaisen, Demon Slayer.