Will Kitagawa And Gojo End-Up Together In My Dress Up Darling?
Will Kitagawa and Gojo end-up together? This is the first question came after watching the first episode of My Dress-Up Darling.
I know you're interested to know too…
So, in this post I'll make everything clear about Kitagawa and Gojo's relationship status.
Kitagawa and Gojo are the best romantic couple of this anime season, and I won't be surprised if they end-up together.
With this, let's dive into everything related to the manga's present and future…
Does Kitagawa like Gojo?
Does Kitagawa Like Gojo?
Yes, Kitagawa likes Gojo and has also confessed her feelings in Chapter 39.

But, here's the catch: Even though Kitagawa confessed her feelings to him, he doesn't know anything about it yet.

Why? Because he was sleeping when she confessed.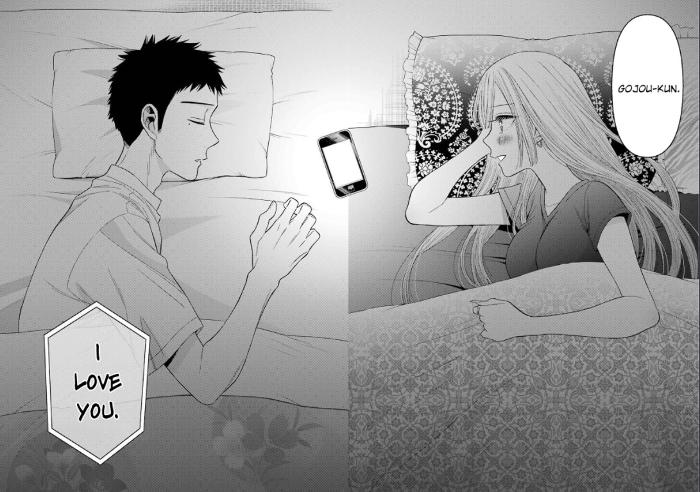 Actually they both like each other. Kitagawa confessed her feelings to Gojo in Chapter 39.
And on the other hand, Gojo accepted his feelings for Kitagawa indirectly in Chapter 62.
As I said before, both of them have feelings for each other, but Gojo is the one who's backing off.
He thinks that a girl like Kitagawa will never fall for a simple guy like him. Bet he doesn't know anything about "manga cliché."
I'm just guessing, but I'm seeing the series take a turn where an another girl will appear. And in the end the series will end with both of them accepting each other.
Will Gojo and Kitagawa End-Up Together?
I will be SOOO disappointed if these two doesn't end-up together.
Well, the good thing is, as I said, both have romantic feelings for each other, and Kitagawa has already accepted her love for him. The one who has to make a move is only Gojo.
As of writing this post the manga has 71 chapters, and after the anime the manga sales are only rising.
I feel the manga has a lot of juice left, and many things can still happen as we move forward.
Unlike other manga, the chemistry between Kitagawa and Gojo is gradually becoming strong. Though Kitagawa has many friends, the one she shares her best kept secret is Gojo.
And, the same thing is evident with Gojo! Though he doesn't have any friend.
I won't be surprised if they reach a point where they cannot live without each other for long.
A time will come when they both will know each other so well that staying will be the only option left for them. And, that's how a "Great Relationship" is born.
I'm only praying that the mangaka doesn't introduce any unnecessary content (like in "Rent a Girlfriend"). That simply kills the interest and fans feel cheated in every chapter.
Well, let's see what happen..
But, rest assured, these two are ending-up together. No questions asked…
What do you feel can happen in the upcoming chapters?
Will the mangaka stretch the series with unnecessary content?
Or will he keep the manga standard intact?
I would love to hear your thoughts..
Until then!!
Other Most Asked Questions:
Is My Dress-Up Darling 18+?
I wouldn't say that the manga is entirely for adults. It's more like 16+.
There are certain manga chapter targeted for mature readers only.
Good thing is, 18+ chapters are only 1/10th of the manga.
The best example is Chapter 36. I won't explain what happened, but it's not suitable for minors.
Is There Romance In My Dress-Up Darling?
Yes, there is romance in my dress-up darling. But, you might be a bit disappointed if you're into regular intense romance.
The manga is more focused on the "Slice of Life" genre. Hence, we don't get to see romance in every chapter. You can say it's "drip-fed" romance that happens every 7-8 chapters.
That makes the manga more interesting to read actually (at least for me).
Read My Dress Up Darling
I tried hard but didn't get any free source (legal) to read My Dress-Up Darling.
But, the volumes are available on Amazon, and you can buy them at reasonable rate.