Rent a Girlfriend Season 2 Announced.
It's the end of September and slowly Anime released between June and July are wrapping up. While some of the series will get a Second Season, most won't. Fortunately Rent a Girlfriend is getting a Second Season after the First Season ended with a bang. Rent a Girlfriend is the most liked Harem series nowadays thanks to Ruka and Sumi, the most loved characters of the series yet. In earlier episodes the introduction of character (Ruka) in the Anime led the name "Ruka" to trend on Twitter Japan.
This publicity was more than enough to understand that the Series must must get a Second Season.
Release Date:
As of now there is no official Release Date of The Second Season. But, we can be optimistic to get the Second Season next Year. The official website has released the Visual of the upcoming new season.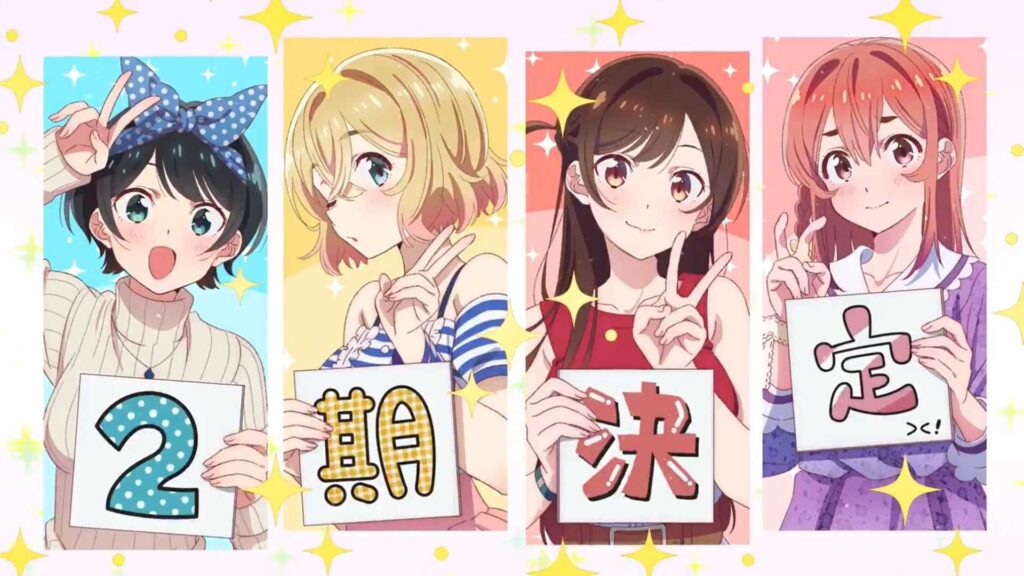 The Visual shows that the series is getting a second season with the characters holding tags.
A Youtube video was also announced about Season 2.
Cast & Staff:
Though we don't know yet whether there will be any cast change, but, mostly we get to see a returning staff. As of now there is not official confirmation and we will have to wait for some time after some more release.
Where to Watch:
Though Rent a Girlfriend is not available on Funimation, you can watch the Anime series on Crunchyroll and VRV.
Plot:
The series is focused on Kazuya Kinoshita who is dumped by his girlfriend Mami Nanami. Kazuya falls into depression and to divert his focus, he rents a girl named Chizuru Mizuhara as his temporary girlfriend. Later he discovers that Chizuru stays right next to his apartment and they also attend the same college. The story becomes even more complicated when Kazuya's grandmother gets sick and she thinks Chizuru as Kazuya's real Girlfriend. The story thus continues with Kazuya renting Chizuru again and again to keep their fake relationships hidden from everyone.
About:
Rent a Girlfriend is a manga series written and illustrated by Reiji Miyajima. The series started serialization in 2017 and is released weekly in Weekly Shonen Jump under Kodansha. Kodansha Comics releases English version of the Manga is North America. As of now there are a total of 17 volumes of the series. A new manga serialization also started in 2020 named Kanojo, Hitomishirimasu. The spin-off manga is focused on Sumi normal life when she is not acting as a rental girlfriend.