10 Black Clover Most Overpowered Attacks. RANKED!!
Which are some of the most OP Black Clover attacks? You know too that Yami's "Dimension Slash" comes into this category, but there are others too aren't there?
Hence, in this post I'll mention the top 10 most Overpowered attacks in the manga:
I'm not including Devil's attacks because they are on a completely different level. Each and every technique of theirs is powerful…
MINOR SPOILERS!!
(10) Dorothy Unsworth (Glamour World)
Glamour World is one heck of a magic technique. Dorothy Unsworth can trap her enemy inside an illusion. But why is her magic technique terrifying? It's because Dorothy has total control inside this world and can summon anything with her thoughts!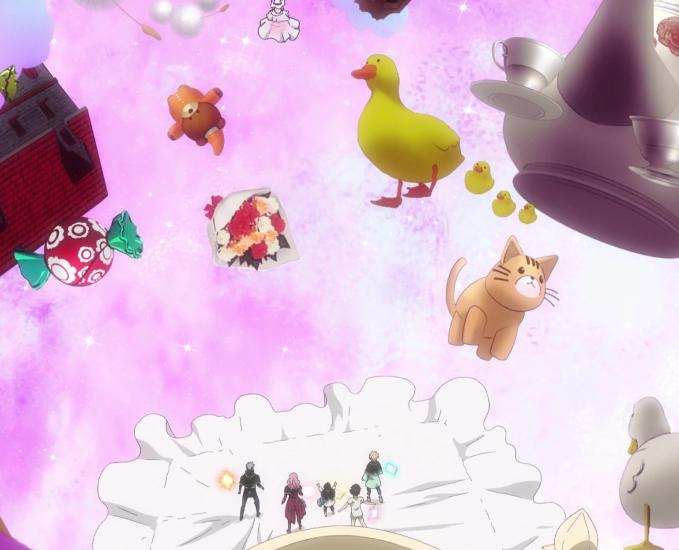 Yami had to try really hard to get out of her "domain." Which simply say how overpowered and complex this technique is!
(9) Noelle (Valkyrie Dress)
Noelle adorns the Valkyrie Dress when she faces a tough opponent. And every time she has decided to adorn this dress her enemy has faced some heavy wrath! She adorned this same dress while defeating Megicula…
But, as of writing this she is still weaker than others. Maybe in the future, she will become even more powerful!
(8) Gaja (Apocalypra Astrauza)
If there's one attack that is too OP even for the highest ranking devil, it's Apocalypra Astrauza. Gaja has lighting magic, hence the base of his magic is fire… Gaja used Apocalypra Astrauza when everything failed against Megicula.
This technique almost killed Megicula, but she somehow lived!
Given that Gaja can only use this power once before collapsing and possibly dying for mana drain, he might only use it when in absolute danger…Hence, even when this is an insanely powerful attack I've kept this below others…
(7) Mereoleona (Calidus Brachium Purgatory)
Calidus Brachium Purgatory is the finishing move Mereoleona uses when nothing works. You can see in the image that her fire has turned blue. Which means it's insanely hot!
When she uses Calidus Brachium Purgatory at full potential, anything that comes in contact of it vaporizes…
(6) Langris (Archangel Shootdown)
Langris has Spatial Magic that he mostly uses for offensive purposes! Archangel Shootdown is a barrage of such Spatial magic balls that can erase anything it touches…The object/magic that Archangel Shootdown touches is erased and is unable to return after.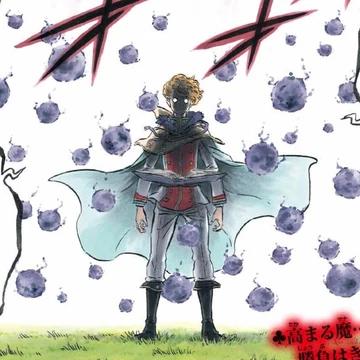 He used this magic while fighting against Finral. Though his intention was to kill him, but he ended-up critically injure him…
(5) Patolli/Patry (Arrows Of Judgment)
Patolli/Patry is one powerful villain! He used everything under his control to wipe out the Humans.. Arrows of Judgement is one of them… In fact this magic technique was so powerful that he could have easily vaporized the Clover Kingdom!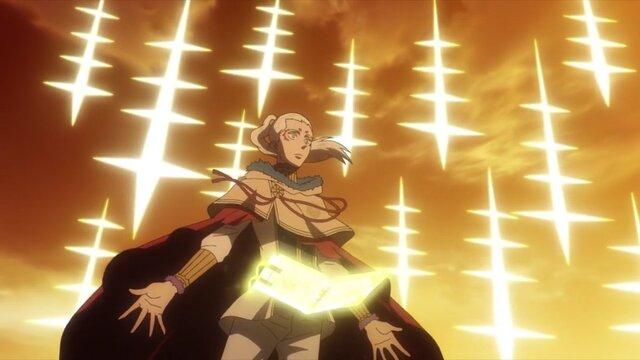 Arrows of Judgement still remains one of the most powerful attacks on Clover Kingdom. Thanks to the Wizard King for stopping it!
(4) Yuno (Spirit of Zephyr)
Spirit of Zephyr is the final magic technique Yuno used against Zenon. After which he was successful in slashing him. At that point Zenon has become as powerful as Beelzebub and still he couldn't counter Yuno's final attack.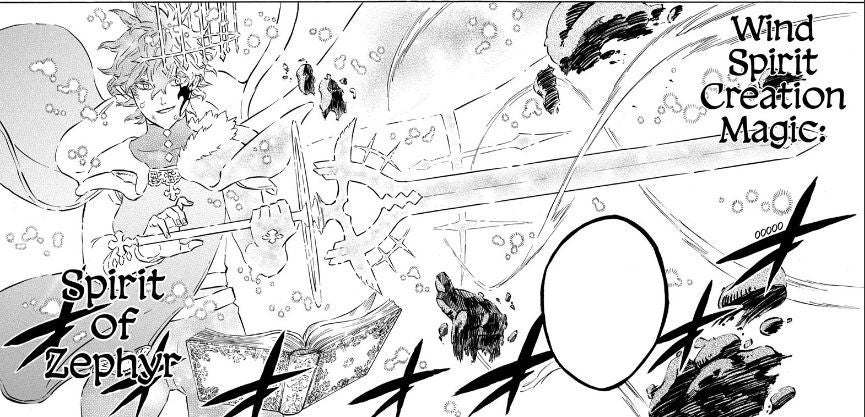 Now, whether he will unleash some even more powerful moves as well is a question, but for now Spirit of Zephyr is his most powerful attack!
(3) Asta (Demon-Slasher: Infinite Slash Equinox)
Demon-Slasher: Infinite Slash Equinox is Asta's most powerful attack. Asta might have derived this name from Yami's "Dark Cloaked Dimension Slash: Equinox," hence, the result that it produces is pretty similar to Yami's.
We still don't know whether this technique is more powerful than Yami's but the sheer distance Asta's technique covers is insane! Also it doesn't hurt any ally. This makes Asta's technique a foolproof one!
(2) Yami (Dark Cloaked Dimension Slash: Equinox)
Dark Cloaked Dimension Slash: Equinox is an insanely powerful attack that can not only cut through dimensions, but the range is also astonishing. Yami used this against Zagred when he was probably many yards away from him…
What makes this technique so fearsome? The ability to reach to the target even when the target is not visible to the eyes!
(1) Julius Novachrono (Chrono Anastasis)
Chrono Anastasis is hands down the most overpowered magic technique in Black Clover. When Julius uses it he can control and rewind time within a targeted area. In that short amount of time, Julius is free to do anything with his enemy.
As for the latest revelation, this magic doesn't work on Asta. Most possibly because he has access to Anti-Magic. Unfortunately, we still don't know whether Dark Magic (Yami) can also bypass this spell!
Conclusion & FAQ
Julius is still the undefeated champion in Black Clover. There's probably no one with magic who can beat him. Damn, this dude can even control time within a space…How OP is that?
But, Black Clover final arc has something else to say about Julius. Let's see exactly how everything turns out!
Which Is The Most Powerful Attack In Black Clover?
Julius Novachrono's Chrono Anastasis is the most overpowered attack in Black Clover.