To Your Eternity Anime Release Date, Trailer, Plot.
When it comes to fantasy series, immortal beings are a common happening. Living for thousands of years, these beings have their own story to tell and a collectable experience of a whole civilization. But, most of the immortal being turn frustrated and can't wait to leave their body. To Your Eternity is a fantasy manga of a different sort where the main protagonist who is an Immortal wants to explore to gain knowledge of the World.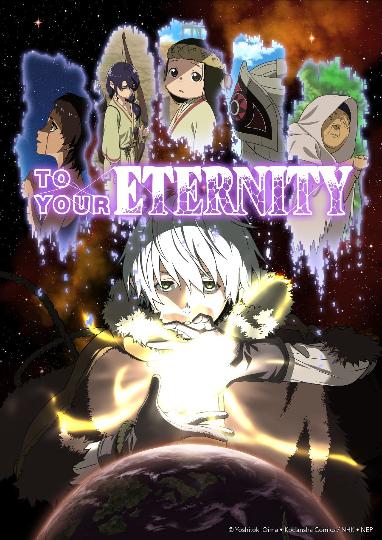 To Your Eternity is a manga written and serialized by Yoshitoki Oima. Oima is also known for her critically acclaimed A Silent Voice. The series is weekly serialized on Weekly Shonen Magazine and is in serialzation since 2016. Till now there are a total of 12 volumes of the series and now this beautiful series is getting its own Anime. Kodansha USA is Publishing the English version of the Manga series in North America.
The official website of NHK announced that To Your Eternity anime that was scheduled to release on October this year has been delayed to the April 2021. The reason behind the delay is the ongoing pandemic.
Though it is a major disappointment, but, the health and security of the creators are also important. To Your Eternity if released would add into the October list of the best Anime. But, it seems we have to wait for almost 9 months to get to watch the series.
Official Trailer of To Your Eternity:
Official website of NHK also announced that the anime will have a total of 20 episodes and Crunchyroll will stream all of it upon release. Brain's Base is the studio behind the animation.
Staff:
| | | |
| --- | --- | --- |
| Position | Name | Other Works |
| Original Work | Yoshitoki Oima | A Silent Voice |
| Director | Mashiko Murata  | NARUTO Spin-Off |
| Series Composition | Shinzo Fujita | Duel Masters Cross |
| Character Design | Koji Yabun |  Naruto Shippuden: Blood Prison |
| Animation Studio | Brain's Base | In/Spectre |
Cast:
| | |
| --- | --- |
| Fushi | Reiji Kawashima |
|  March | Rie Hikisaka |
| Parona | Aya Uchida |
| Pioran | Rikako Aikawa |
| Hayase | Mitsuki Saiga |
| The Beholder | Kenjiro Tsuda |
About To Your Eternity:
To Your Eternity is a fantasy manga about an immortal being who wants to learn about the world in great depth.
The story revolves around A lonely boy who meets a wolf in the unforgiving cold of Arctic of North America, and quickly became best friends.
Their close friendship helps them to survive in those harsh environment.
If you want to fill yourself with a dose of emotion, life, death, reincarnation and in the end Immortality, this series is must watch.
BONUS:
The famous series is back with a second season after a long time. This could be the last season of the series. Irregular at Magic High School is set to release its second season. Look into what Shiba Tatsuya has under his sleeves in the new season.
Sources: Official