"The Hidden Dungeon Only I can Enter" New Trailer Revealed.
The Official website of "The Hidden Dungeon Only I can Enter" revealed the second Promotional Video of the upcoming Anime. With the Second Promotional Video, they website also revealed the Voice Actors of the characters in the series.
According to the official Website, Akadi Kito will play Luna and Yuki Nagano will play Alice in the Anime.
Release Date
The Hidden Dungeon Only I can Enter will start airing from January 9, 2921. The will will first premiere on MBS and TBS, and then will run on BS-TBS later. AT-X will broadcast the Anime from January 10.
Crunchyroll will simulcast the anime at the same time when it airs in Japan.
Promotional Video
The youtube video shows Nor, entering the dungeon and finding a woman who is chained. Nor, is also seen fighting in dungeons and doing ecchi stuff with other members. The promotional video was only 2 minutes long and not much was revealed from it. But, it's for sure that this anime is not for kids.
Casts
Below are all the main characters of the series.
(From Left to Right)
Ryota Ohsaka Voices Nor
Miyu Tomita Voices Emma
Rumi Okubo Voices Lola
Yui Horie Voices Olivia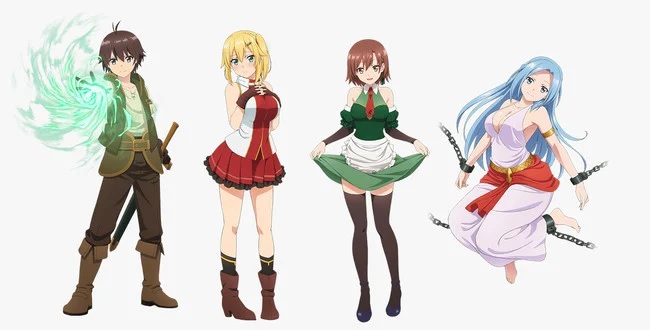 Staff
| | |
| --- | --- |
| Original Work | Meguru Seto |
| Yuya Uetake | Character Design |
| Kenta Ihara | Script Writing |
| Director | Kenta Onishi |
Plot
The Main Protagonist, Nor, who is the third son of an impoverished noble family has lost the one job offer he had. In search of wealth he hears about a Hidden Dungeon where rare treasures and items are hidden. He later acquires a skill that allows him to create, bestow, and edit skills. But, in order to use it, he needs to accumulate points by completing tasks such as eating delicious meals and doing ecchi things with alluring members of opposite sex.
Source: Official