Chainsaw Man Darkness Devil Astronauts Explained
Chainsaw Man is one of the most intensive manga series I've ever read. The manga has compressed everything withing 100 chapters. And that leads to just one thing: Questions! A lot of them!
And one of the most debated topic is the Astronauts welcoming the Darkness Devil. Fujimoto never talked about it. Neither in the manga nor in person. So, we fans thought to hang upon just several speculations and theories…
Hence, today, I present you a theory that might finally solve the mystery of the relation between the Astronauts and the Darkness Devil!
---
SPOILERS FROM MANGA!!
---
What Does the Astronauts Mean?
I'm finding it hard to describe the whole thing in words. To make things more understandable I'll mention in bullet points:
(1) Astronauts go to Space wearing those suits. Space is an unknown dimension, never fully explored. Hence, the fear of not knowing, and also the fear of getting left behind (lost).
(2) The Astronauts having their legs detached from their body shows their helplessness when they are lost in Space. Once you're gone, you're done for. Every effort will be futile.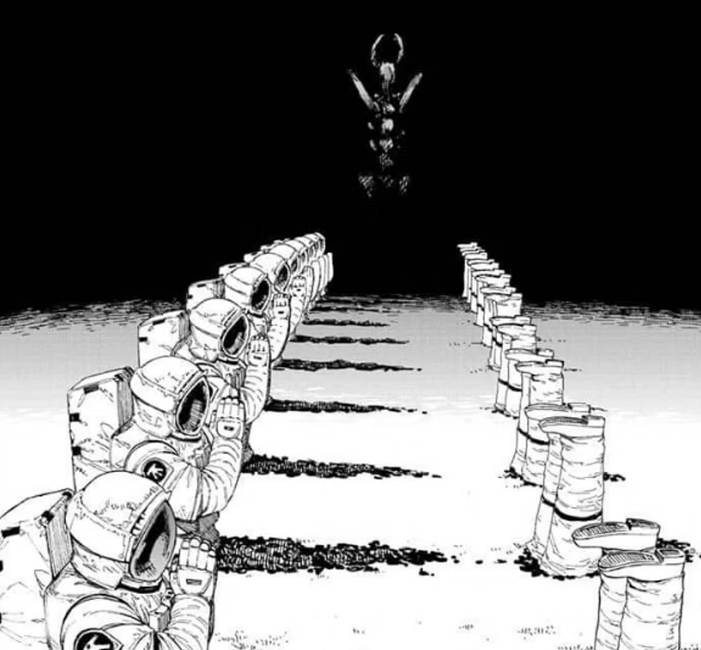 (3) Hoping for someone to save them, the Astronauts are praying because they are afraid of the Darkness of Space. They know subconsciously that nobody is coming to save them, yet they are making an unfulfilling effort.
(4) Finally, the Darkness Devil is standing between their body represents that he/she is the one who now governs whatever happens to those Astronauts. Even when they are praying for someone to save them, when they close their eyes, it's darkness. When they look around, it's nothing but vacuum space, and of course Darkness. In the end, when the Darkness Devil consumes them, they merge into the Darkness.
The astronauts might resemble the dark space. And since the figures don't have legs I assume that it signifies that they have nowhere to run from the terror of Darkness Devil.
I tried to find whether the suits have any resemblance with all the failed space mission, but couldn't find one. So, Fujimoto is also not pointing towards such possibility.
---
---
Fujimoto Is A Genius
It is just because of manga creators like Fujimoto that the manga industry is booming and also has great future. You will commonly see that creators carry their series at a painfully slow pace.
But Fujimoto is just the polar opposite. Chainsaw Man is the not the only manga he has completed within 100 Chapters. He completed Fire Punch in 83 chapters.
If you are really into fast-paced but fantastic story, you should check out his works. Fujimoto sensei is a gem we cannot afford to forget!
Conclusion
Darkness Devil is hands-down the most fearsome Devil in the Chainsaw Man Universe. Darkness is one thing that you cannot escape from. You can escape from control if you try, but darkness is like an "Universal Law." It's a necessary evil.
The unique thing about Darkness is that you don't have to put any extra effort to manifest one. On the other hand, light needs and external source. Fujimoto used those astronauts to show Darkness Devil's entrance because most of the space is dark. The Black Hole, it's dark, When a Star dies, the place of its existence become dark.
Half of the Moon is dark, etc. And that's what makes the Darkness Devil insanely powerful, like an omnipotent force.
What Does Astronauts With Darkness Devil Mean In Chainsaw Man?
The praying Astronauts with Darkness Devil shows the overwhelming fear of Darkness in Space.