Black Clover Chapter 270 Spoilers, Raw Scans Leaked.
Since, the last few Chapter, Black Clover manga has been hitting us with back-to-back revelations. After William, Yami and were taken by the Knights of Spade Kingdom, both the Kingdoms are at turmoil and training hard to take their Captain and Queen back. In the present scenario we see Asta trying hard to overcome Liebe and take him under his control. With this let's look into Black Clover Chapter 270.
Spoilers: [UPDATED]
The Leaks are out and below is the List:
Asta wins and he wraps a chain around Liebe's neck to take him under control.
Nacht says that putting the chain will bound Liebe to follow any order.
Asta wants to make an equal contract since, they've been together for a long time.
Liebe learns that Asta is Licita's child.
Liebe cools after down after learning this and then they form a mutual contract.
They shake hands and Asta gets his Right Hand back but in Devil form.
Nacht says that the real training begins now and merges with one of his devil.
In the last panel we see Nacht after combining himself with one of his Devil, he challenges Asta to defeat him in his Devil form.
There is bonus leak that shows a preview of Episode 150 of Black Clover Anime. It is shown that Grey becomes Noelle's apprentice to overcome her fear.
Discussion:
The Battle comes to an End:
After a long drawn battle with various revelation, the battle to overcome his devil has at last come to an end. What led Asta was win was not to control his Devil, but the dedication to save his Captain, Yami and Captain William.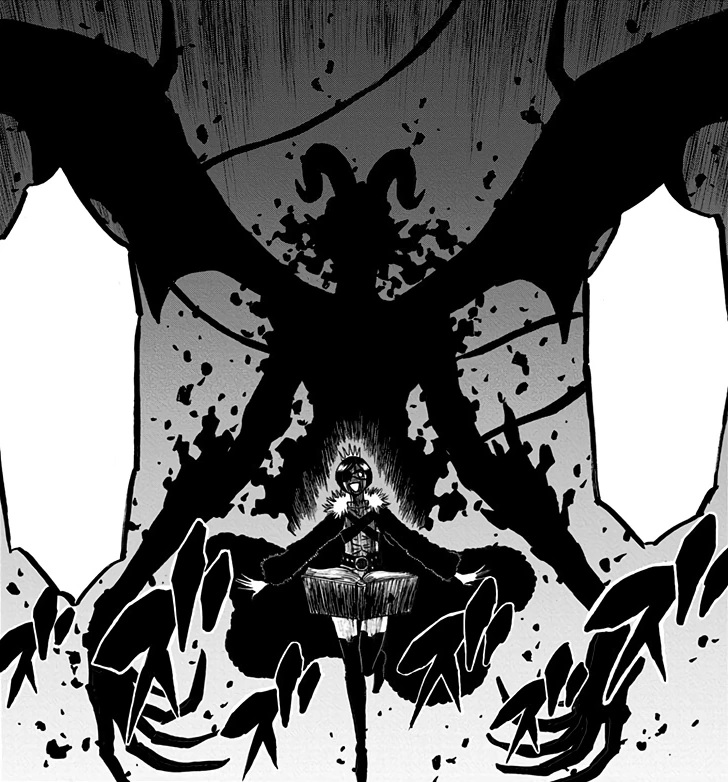 But, more than the overcoming his Devil, the real win was when Asta successfully took shook hands in a friendly manner with Liebe and Liebe learning that Asta is Licita's son.
There is lurking question against Asta's decision! Asta refused to tie down Liebe rather treat him as his own friend. But, in the end Liebe is a Devil and the his hatred towards other Devils in as intense as it was before. Particularly Lucifero. What happens when Liebe meets Lucifero? Can Asta control Liebe's rage?
Long Lost Brother:
When Licita took Liebe under her care, he was a kid and that too a Devil Kid. He grew with Licita and she took Liebe as her son. Now that it is official that Asta Is Licita's son, that makes Liebe his brother.
Though there is no blood connection, they are the son of the same mother. But, Alas! Asta never saw his mother.
A brotherly bond with a Devil is a dream come true, since, most Devils are controlled and not let free. This is the bond that will make Asta and Liebe the strongest in future.
Nacht vs Asta?
In the last panel, we see Nacht challenging Asta to defeat him in his Devil form. Well, Nacht controls 4 devils and is also an expert in his field. In the next Chapter it will be exciting to see the combination of Asta and Liebe.
Who will win, at this point it is not clear, but most fingers are pointing towards Nacht. But, this is Asta, who knows, maybe he will win.
Read Black Clover:
Black Clover if Free to read on Viz: